Poppy Appeal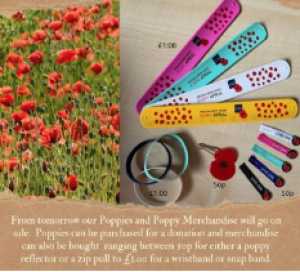 We will be selling poppies in aid of the Royal British Legion. They will be taken around registration classes and will be available to purchase from the main office at break and lunch times.
If your child is interested in purchasing a poppy or poppy merchandise, we kindly ask for the following donations please:
- Poppy – 20p
- Poppy reflector - 50p
- Zip pull - 50p
- Wristband - £1
- Snap band - £1
Thank you for your support.